el Queso Grande wrote:
From Twitter: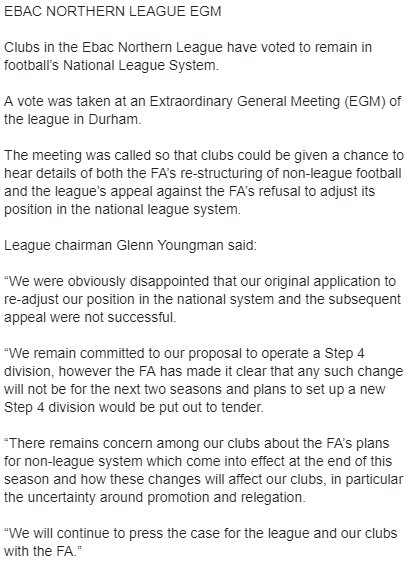 Uncertainty? What Uncertainty.
You WILL Promote the Top Two to Step 4.
You WILL Not receive a club from Step 4 this season.
You MUST reduce to 20 team divisions at both of Step 5 and 6.
What is so bloody difficult.
22 Div One clubs - 2 promotes - 20
Top Three up from Div Two means they must relegate the Bottom Three
Staight swap of 3 a piece bwteen Div One and Two makes the latter's picture quite clear.
21 clubs after exchanges have taken place with Div One - Only the Northern Alliance Champion can come up which means to get to 20-teams they must relegate the bottom two.
They will have to relegate the bottom three (or the FA will laterally transfer someone out to save their third-bottom side's place at Step 6) ONLY if Redcar Athletic overtake Cleator Moor Celtic.